At the end of June, the Janáček Theater hosted the first annual European Dance Competition Brno, an international dance competition for junior dancers aged 12 to 18. 67 dancers from 13 dance conservatories and ballet academies from the Czech Republic, Slovakia, Poland and Hungary entered the competition. 33 of them advanced to the finals, where 21 young talents were awarded. The most talented received lucrative internships at ballet schools in Canada or Berlin.
The competition is a new project organised by the Ballet of the Brno National Theatre (NdB Ballet) in cooperation with Brno's Filiánek ballet school. The goal of the competition is to develop a platform for discovering, supporting and promoting promising young dance talents. Compared to previous attempts, the focus of the competition was broader; dancers focusing on contemporary dance could compete, without the obligation to demonstrate extraordinary skills in classical dance techniques.
The expert jury included: Petr Zuska, the former head of the Ballet company of the Prague National Theatre; Boris Nebyla, artistic director of the European Ballet Grand Prix; Anastasia Matvienko, first soloist emeritus of the Mariinsky Theater; the renowned choreographer Lukáš Timulak; and Simona Noja-Nebyla, the former first soloist of the Vienna State Ballet.
In the first round on 27 June, 67 young dancers performed a total of 71 classical variations and modern choreographies. In the final two days later, the jury evaluated 33 dancers, and 21 dancers won awards.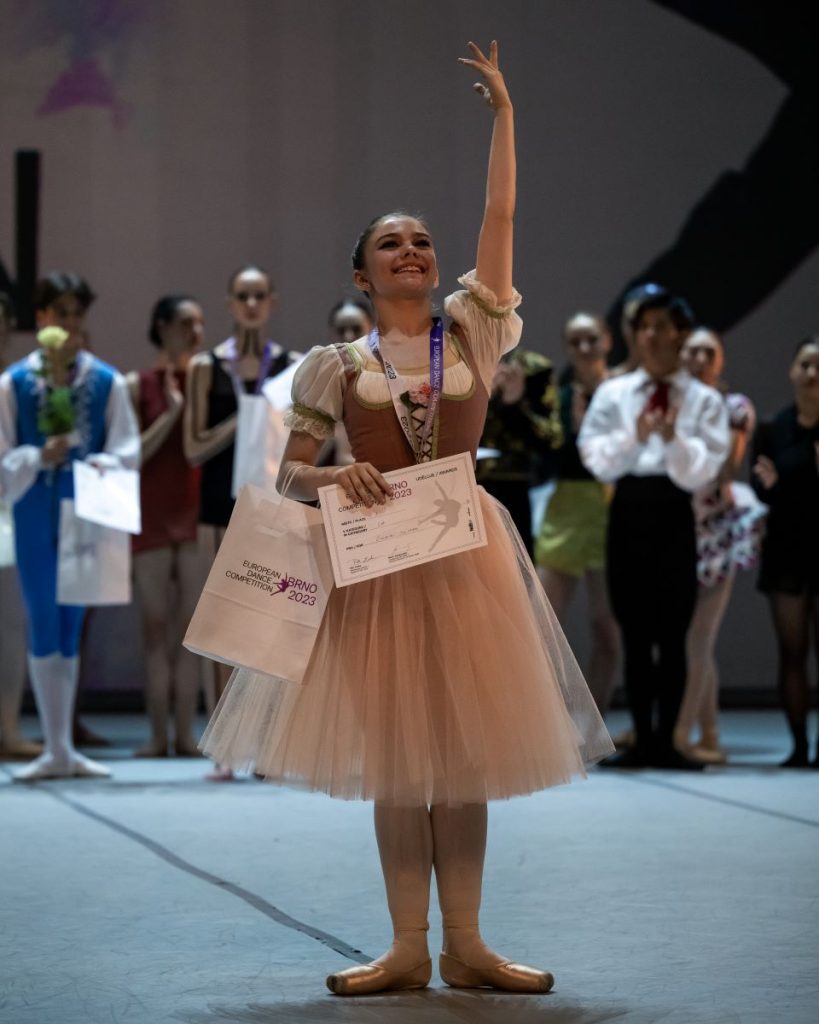 During three days, the young dancers had the opportunity to train with Timulak and the head of NdB Ballet, Mário Radačovský, focusing on contemporary choreography. Dancers who did not advance to the finals were offered classical and contemporary masterclasses with ballet master Jana Přibylová or the former demi-soloist of NdB Ballet, Kristýna Kmentová.
In addition to the recognition of the jury, the award-winning dancers also received valuable gifts from partners, including summer masterclasses with world ballet stars Denis Matvienko and Nina Ananiashvili, a stay at a dance camp in the Vysočina, shopping vouchers at the Dance Shop, and vouchers for the Brno National Theatre. The most gifted dancers received internships at prestigious dance schools: a week-long scholarship at the Staatliche Ballettschule Berlin or an intensive summer masterclass at the École supérieure de ballet du Québec in Canada.
"After the creation of the junior company, Ballet NdB 2, this important dance competition project was also born," said competition director Mário Radačovský. "Both projects help NdB Ballet find talent and establish the brand on the map of Europe. The level of the first year exceeded my expectations, despite the fact that the Grand Prix prize was not awarded – an annual artistic contract in Ballet NdB 2."
Radačovský added that, based on the success of this year's competition, the next such event will be held in 2025.