A new memorial plaque highlighting the five main parts of the life of Tomáš Eduard Šilinger was unveiled today at the Brno City Hall building, near the corner of Husova and Pekařská, on the 110th anniversary of his death. The competition for its artistic concept was won by the Monolit studio with a meaningfully direct but creative design.
Augustinian priest and prominent Brno politician Tomáš Eduard Šilinger died 110 years ago. His memorial plaque was located on the square that bears his name until the 1950s, when it disappeared. "Now the memorial is finally coming back," said the Mayor of Brno, Markéta Vaňková. "The winning bronze design combines with elegance and understanding the roles that Tomáš Šilinger held in his life. At the same time, the minimalist concept encourages interest in getting to know his personality."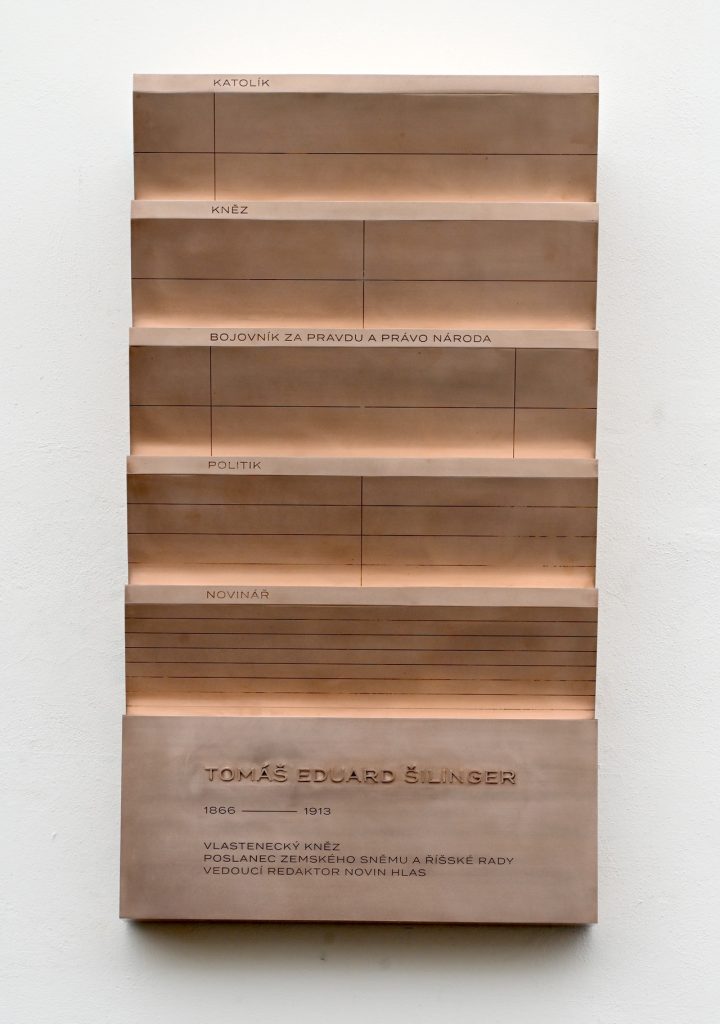 Šilinger was an Augustinian priest, a member of the regional assembly, and later also a member of the Imperial Council of Austria-Hungary, but he was also a journalist and a great supporter of the Czech nation. The commemorative plaque addresses all these aspects. "The work of the Monolit studio represents this forgotten personality of Brno in an absolutely exceptional way," added Brno city councillor Filip Chvátal. "Thanks also go to Mr. Kostelek, who initiated the return of the record for today's event. The work fits very well into its surroundings and is in harmony with its elements. The board, reminiscent of a filing cabinet, shows Šilinger as a Catholic, a priest, a fighter for the truth and rights of the nation, a politician, and a journalist, using simple graphic elements."
The individual parts of the work depict Šilinger's life using symbols such as the cross, the pages of a book, and a parliament bench. The bronze finish will acquire a patina over time. The memorial plaque cost CZK 200,000.
New Commemorative Plaque Depicts The Life of Tomáš Eduard Šilinger