The other day I was roaming the streets of Brno, as you do when you've just gotten back from vacation and you want to refamiliarise yourself with the charm of the city you've called home for quite some time, and I had the biggest craving for some hot chocolate. Maybe it's because it was only 5 degrees and a bit grey or maybe it's because my blood sugar was a little low from not eating most of the day, but either way, I just wanted something sweet, gooey and warm.
I happened upon Čokoládovna Minach on Poštovská. I'd been here a few times in the past to buy birthday presents or goodies for relatives back in the UK, but I'd never made it to the actual café area. The shop is a traditional chocolatier, a veritable Aladdin's cave of sweet treasures, from fiery chocolate gingers to creamy vanilla truffles and even bars laden with spicy chilli peppers! And of course, each treat comes wrapped in a velvety coat of white, milk, or dark chocolate that melts on your tongue. They even have the occasional ruby chocolate treat if you want to try something even more luxurious! Willy Wonka would be proud of this tiny little cube of chocolate heaven.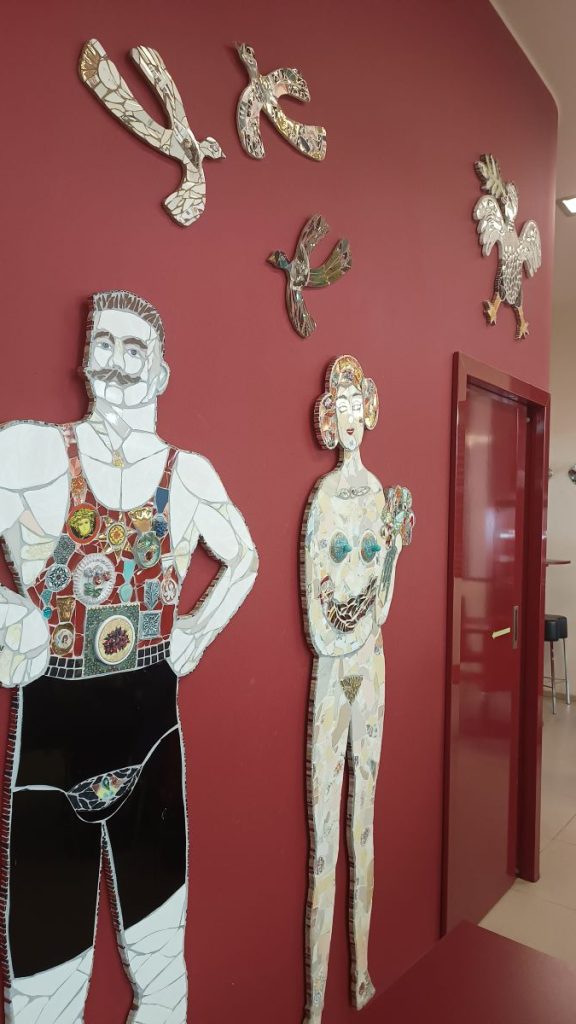 But I wasn't there to purchase anything to take home with me. I wanted my chocolate cravings sated there and then! So I made my way through to the cosy cafe and took a seat on one of the window benches. Adorned with a multitude of cushions, decorated with warm red tones, and interesting mosaic artwork that hangs on every wall, the cafe really is an extremely inviting little den. I could easily imagine the glass fogging up in winter, as people huddled inside, savouring their luxurious treats. With only five or six tables, it's the kind of snug spot that promises warmth and comfort when the mercury dips.
The menu was surprisingly extensive with a tantalising array of beverages, including all the usual things like coffee, tea, a multitude of wines and liquors, lemonades and of course, so many chocolate based treats! If you've ever thought Hot Chocolate was a boring drink, this place is here to prove you wrong. The choice in flavours is staggering, intriguing and on occasion, a little bit concerning: everything from classic vanilla to aromatic cardamom or even a zest burst of orange. It probably took me a good 10-15 minutes just to decide what to try!
In the end, I opted for the Mexicana Hot Chocolate: a daring blend of chilli, anise and vanilla in molten dark chocolate. Just reading the description made my mouth water and I had very high hopes. When it arrived, I must admit, it appeared to be rather small, which was initially quite disappointing. But, as I'm sure many of you know, size isn't everything!
The rich, dark chocolate was so thick, my teaspoon could practically stand up in it. It was as if someone had simply melted down a slab of chocolate and added the faintest whisper of milk to soften its intensity. The sprinkling of spices just added to how devilishly delicious the whole thing was. They were perfectly balanced with the aroma of the anise hitting you as soon as you lifted the cup, the vanilla being ever present on your tongue and the slight kick of chilli just hitting the back of your throat. It was so creamy and smooth. Even from my first mouthful, I could feel it coating my entire mouth and throat with sweet rich goodness.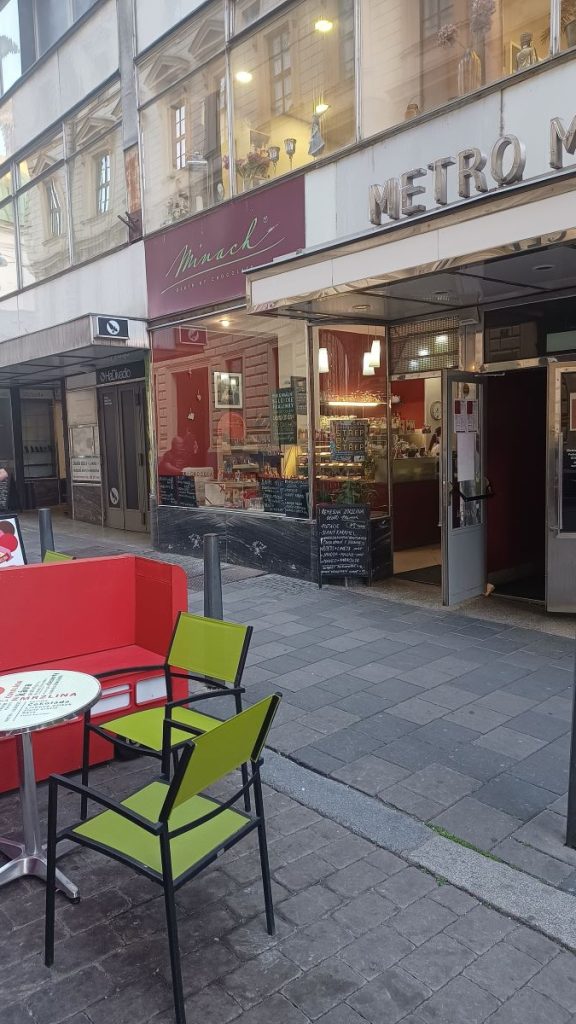 Although I didn't sample any of the cakes on this occasion, they sat in a nearby display case and they were definitely very tempting. The dense chocolate torte looked like you might have to share because it would be so bitter, rich and filling, but at the same time, you'd bite your partner's hand off before actually letting them get near it. And the multiple chocolate cream cakes looked very light and fluffy. I am determined to return another time and battle my way through one of the delights in that display case.
In conclusion, this tiny little chocolate shop / café is a little piece of heaven tucked away in the heart of Brno. If you ever find yourself in the city centre and craving something sweet, be sure to pay a visit.
Review: Brno's Čokoládovna Minach on Poštovská